A tiny tribe grows organic produce for its members and the Coachella community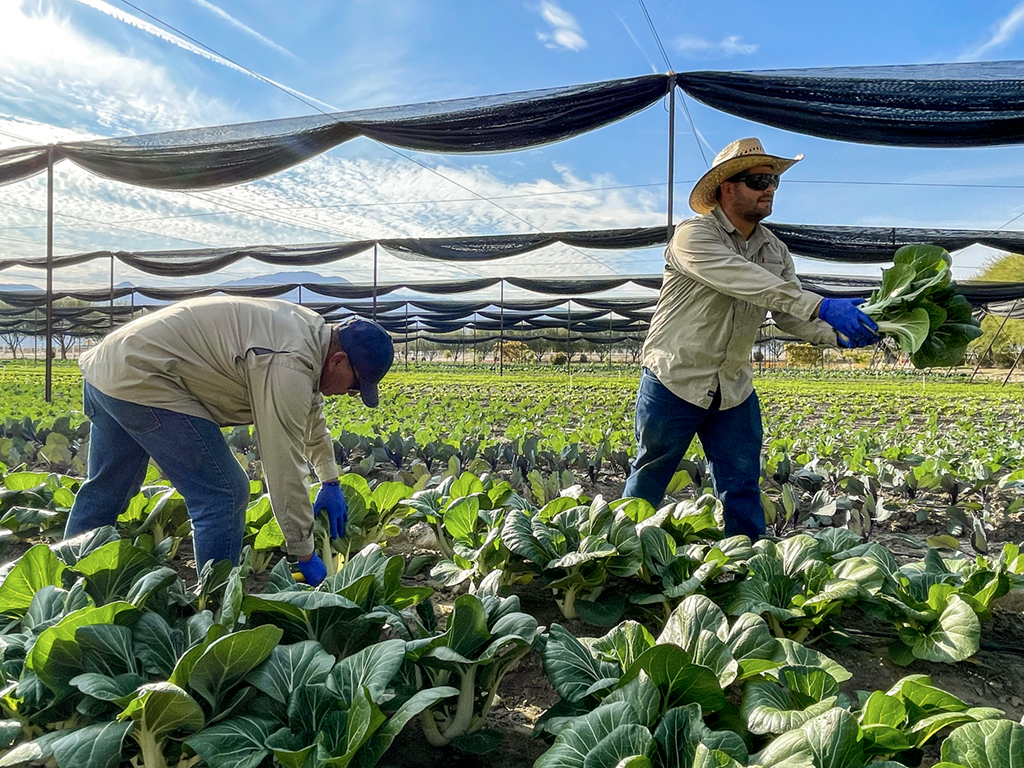 Take a tour of Temalpakh Farm in Coachella, and your first impression is a beautiful view of a broad sweep of desert that belongs to the Augustine Band of Cahuilla Indians, one of the country's smallest Native American tribes. Across 53 acres that were once littered with trash, the Augustine Band grows green rows of organic broccoli, squash, cauliflower, leafy greens, celery, and tomatoes.  
"Back when we didn't have a fence around the reservation, a lot of people would come and dump tires," says Ronnie Vance, a Tribal Council Member who operates the farm. "There were a lot of mattresses and old stoves and refrigerators."
The tribe started clearing the land and preparing the soil for farming in 2012. Planting began in 2014, and today the farm produces a wide variety of fruits and vegetables year-round.
The farm was part of a larger initiative started by Vance's mother, who passed away in 2017. "My mother wanted to make sure that we had organic, sustainable local food for the tribal members, our employees, and the community around us," Vance says.
Coachella Valley residents and visitors can shop at Temalpakh's produce market, which is filled with just-picked produce including heirloom varieties that aren't widely available.
"It's very different from a regular grocery store, where you'll see bananas and tropical fruits year-round, and tomatoes and strawberries in the winter. Those are all summer crops that have traveled thousands of miles," she says. "When you come to the market at Temalpakh, you're going to get only what's in season and only what's grown at our farm. You're going to see the difference in appearance and taste."
At the market's smoothie bar, blended drinks are made with grown-on-the-farm ingredients like spinach, kale, carrots, avocado, mesquite powder, and dates. Vance's favorite is the peanut butter and jelly smoothie made with berries, almond milk, and peanut butter. Now that the farm is cultivating four varieties of dates, Vance plans to expand the menu and add a date shake.
The farm also sells vegetables to chefs at Coachella Valley restaurants, including Café La Jefa and Ace Hotel Palm Springs.
Vance, who has a background in culinary arts, says that the desert Cahuilla Indians weren't farmers in the traditional sense, but they were stewards of the land. "They had to surrender to their environments. They were nomadic and would travel throughout the valley and to the mountains to trade acorns or mesquite with other tribes. While traveling, they would cultivate the land so that when they'd return, whatever they needed was growing there. They weren't farming in the traditional sense, but they were caring for the land."
A key part of Temalpakh Farm is its education component, Vance says. One of the farm's newest buildings is its Education Center, where schoolchildren will have access to a curriculum covering local history, plant science, and organic farming. The tribe plans to open up the center to schools throughout the desert region.
Currently, visitors of any age can take a farm tour with John Frank, Temalpakh's general manager. Every tour begins on top of a hill marked by a 10-foot-tall sculpture of seven feathers.
"The feathers are made from the recycled tires that were on this land. They represent the seven adult members of the tribe," Frank says. "From the top of Seven Feathers Hill, we can see the entire farm and most of the reservation, and I talk about the tribe's history."
Frank says that visitors are "surprised and amazed" to learn about the Augustine Band and the reservation's businesses, which include Temalpakh Farm, the Augustine Casino, and a 25,000-panel solar field.
"At one point, the tribe was just three people," Frank says. "They recently got to 19. Most of what people see here now wasn't around 30 years ago. Everything that's been accomplished is remarkable."
As Frank leads visitors around the farm fields, he talks about Temalpakh's growing practices. "We're trying to shape the land so that we can grow on it, but we do that by nurturing it, undoing a lot of damage done over the years and trying to bring it back to health."
"Visitors can see how we're trying to conserve water, what we do to stay organic, what happens during the crop cycle, and what we do at the Education Center," he says. "We end the tour in our pollinator corridor, which is really just a field covered in flowers. It's really pretty, but more importantly, it brings in the bees."
Temalpakh is a Cahuilla word that translates to "from Earth" and represents the farm's mission to grow organic food from the soil using sustainable techniques.
Vance says that she feels thankful when she walks through Temalpakh's rows of crops. "I'm grateful to be able to make a positive impact on the community and the environment. It's beautiful knowing that this was all just sandy, salty dirt once upon a time," she says. "Now when you walk through, you see all these living things, you smell them growing. You see nature interacting in a harmonious way."